by Wade Britz
Sunday Morning Radio
It's no big surprise that most musicians have grown up around music in one way or another, and the same could be said for myself. My earliest childhood memories are of Sunday mornings in my living room listening to the tapes/CDs that my dad would be playing. Luckily for me his taste was pretty broad, so I grew up on music like Alanis Morissette, Green Day, The Alan Parsons Project, and Marilyn Manson. His favorite band (and the music I remember most vividly from that time), however, was Pink Floyd, and though I wasn't aware of it at the time, I suspect they shaped the preference of music I hold today.
Despite a non-traditional introduction to certain bands, my musical tastes into adolescence were primarily based on whatever music was popular on the radio at the time, and it wasn't until I started playing an instrument for myself that I really discovered the bands and genres that I still listen to. 
It wasn't until I started playing an instrument for myself that I really discovered the bands and genres that I still listen to. 
Discovering Bass
My first time picking up a guitar was in a class in high school and, unlike other stories I'd heard, held no flash of inspiration or epiphany of what my future was meant to be. There were no voices singing to me from on high and I certainly didn't feel that this was something that I was 'meant to do'. I did feel comfortable holding and playing, however, so the class went over really well. The next year I was given the opportunity to continue along with it, but since most of my friends were in the school's band class I opted for that instead, which meant I had to switch to the bass guitar.
Once again, I wasn't struck with any life-changing revelations by holding the instrument, instead I just thought it was a lot of fun. I loved to practice, but even more than that I loved listening to the bass in music. I had largely (not purposefully) ignored the instrument in the past, so it added to new dimension to all my old favorite songs. I started to gain a lot more respect for the role, especially when I started listening to some of the greats like Jaco Pastorius or Tony Levin. I kept looking for more and more technically challenging music, because not only was it more fun for me to play, it was more fun for me to listen to.
The Band That Changed My Life
At one point I asked one of my friends to recommend me a large list of metal songs, a genre I was just starting to get into, to listen to. On this list he starred certain songs that he'd thought I would really enjoy, especially ones with some bass-focused parts. One of the tracks was Metropolis Pt. 1 by a band I'd never heard of before called Dream Theater, but I'd soon be talking about them with anyone that would listen.
Dream Theater was everything I never knew I wanted: long-form song structure, odd time signatures, powerful vocals, and above all else an impressive mastery of instrumentation. I fell in love completely from the first time I listened to that first song, and there's really only been one time since that a single song has affected me the same way (Square Hammer by Ghost being the only other).
I started devouring everything I could by them and within short order, they were my favorite band. A year or two later they announced a tour in my hometown and I asked some fellow musicians if they wanted to go see them with me. One of those people was Trevor, a somewhat out of touch old friend who, being a musician, was well aware of the skill this band had and wanted to experience that in person. The concert was a blast and we started talking about how fun it would be to play together in a band of our own. A couple months later I was invited to join Trevor's band, and while that eventually fell apart over the next year, Trevor and I continued to practice together here and there for several years afterwards.
Picking Up Where We Left Off
There were many points throughout those years that we debated starting up a band again, but we always felt like there was an important piece missing. Still, we'd go to concerts together and dream that one day it would be us. Going to see bands like Muse, Plini, and Tool was always very inspiring for me because it looked like those bands were just having so much fun on stage, and it really made me appreciate how a live show can be so entertaining in so many different ways. Ghost, in particular, has had a huge impact on how I've viewed how not just a live show can be presented, but how it can be tied into a band's history and image.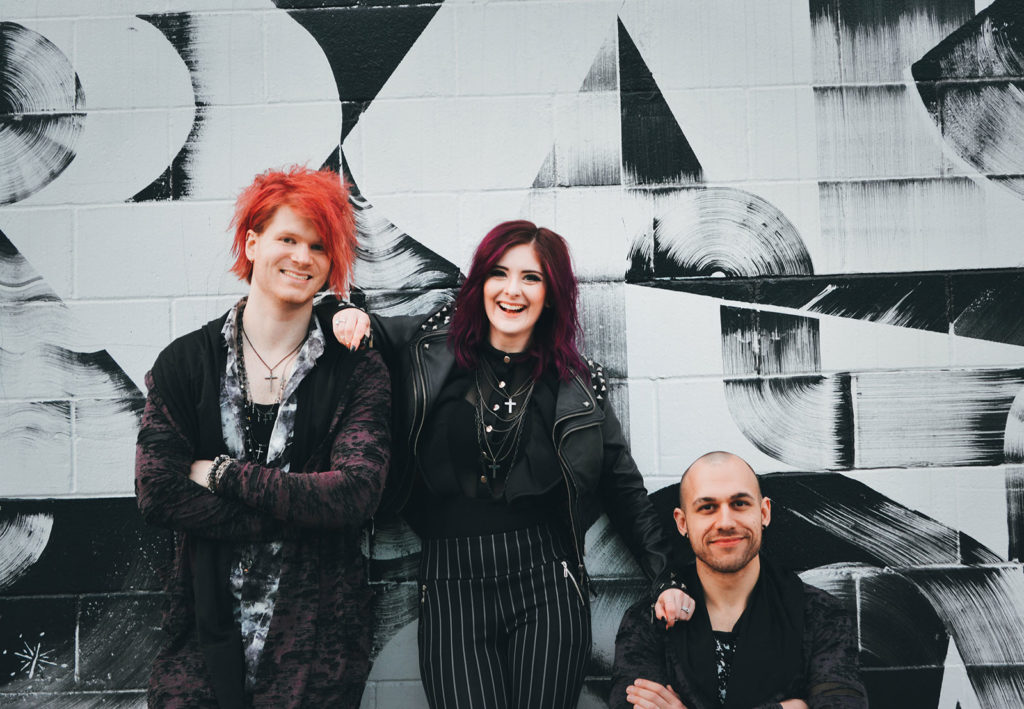 We'd go to concerts together and dream that one day it would be us.
Around this time Bethany had slowly started coming in to listen to us practice; at first, maybe sticking around for only a couple of songs but eventually starting to overcome her own fears and beginning to sing along. At this time we knew we had the missing piece and decided to start writing our own music again, a decision I doubt a 3-year-old listening to Pink Floyd would have ever imagined.