by Trevor & Bethany
Sup? Trevor here and I'm gonna talk about the additions/changes we've made to our cover of ONE OK ROCK's "Clock Strikes". First off, I've been a huge fan of this band for quite a while now and have always thought this song was beautiful so we didn't want to change too much but I did have some ideas.
The Guitar/Music
At the very beginning of the song, I play the guitar parts of the original but instead of muting the strings and repeatedly picking the notes I play through them once and let them ring. I thought doing this helps add some variance between the first and second part of the verse. I thought that switching to the original verse part when the drums fully come in helped to add some oomph to the pick-up and drive the song a bit more.
Afterward, I stay pretty close to the original until we come to the bridge. After a few runs through of the acoustic, the bass and drums come in and then the vocals start. I've always loved the backing vocal melody of this part, it's very anthem-like and you feel like you can just shout it along with the band, so hype! I just HAD to play that on guitar along with the vocal. I've always been a big fan of playing vocal melodies on my guitar in tandem with the singing happening and I thought it added a lot to the bridge, making it even more epic/bigger.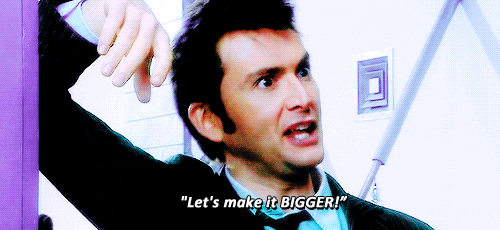 The last addition musically is the ending. In the original, after the last chorus, they just run through the chorus one more time while changing up the vocal but I wanted to do something different, something to really cap off the song and bring it to its climax. I decided to add a lead guitar line that was basically tieing the ending back to the verse guitar part while outlining the chords happening in the chorus to create the rapidly picked ending you hear now.
The String Section
And then there's the string section. We had everything tracked and ready to go and were just about to add in some quiet keyboard sounds to fill out the song like the original has and then I decided to try the keyboard part with a virtual cello from within Logic and we immediately knew we HAD to add a full string section to the song. It was so cool and would help our version differ from their version.
Adding a little extra spice
I have always wanted to compose (I'm saying that lightly as I know this is no-where near a full-scale orchestral composition) an orchestra and play along on guitar. I've seen many of my favorite players do it and this was my chance to start experimenting with something similar. I immediately went and started researching how a traditional string section sits together so I could have a similar panning setup in the mix. I also read many articles about how to make virtual instruments sound more like they were the real bonified version such as what kind of reverbs to be using as well as what kinds of velocities I should be using on each note being played to make it sound like a human being was playing and not just a robot computer program. Obviously, any stringed instrument can vary HUGELY in how they sound based on the feel, the force applied to the note, how you play the note, etc so I had to read a lot about it in order to get the feel of each of the instruments right. We ended up with two violins, one viola and one cello in the song.
The overall play style for the orchestra was basically just to fill out the song, holding long notes and slowly building up intensity as the song goes on through adding harmonies, different backing rhythms and more. I decided I wanted to have violins (and sometimes viola) match what I did in the bridge so they started/followed the bridge vocal melody as well. Then at the ending, I had to have the entire orchestra match the lead guitar part I had written to give a massive completion to the song and it sounded killer!
We are really happy with how the string section worked out, especially being our first time creating/mixing virtual strings, and it still being the third song we've ever mixed. We will definitely be adding more strings in the future.
Bethany on the Vocals and Translation
It was actually quite challenging to find a good translation of Clock Strikes. Most translations didn't even get the parts that were already in English correct (how do you do that?). While I can speak and read some basic Japanese, I wanted to be sure that my translation of the song was true to the meaning. I spent days researching every translation of the song I could find, comparing any differences in each, and even used some of my own knowledge of Japanese to translate not just the words but the meaning of the words.
I ended up referencing 2 different versions of the translations that made the most sense. As with most languages, there isn't a 1 to 1 exchange in words or meaning from Japanese to English and sometimes meanings are up for interpretation. I had to think about the literal translation and how that could be conveyed in a way that fits the melody and rhythm. Someone who does an amazing job of this is Amalee. If you're not familiar with her, she is a talented Youtube musician who covers a wide range of Anime and Video Game theme songs but fully in English. I had a very similar process to her while translating Clock Strikes so it was, in a way, inspiring for me to hear her works and realize that we do it the same way.
Why in English?
I wanted to sing Clock Strikes in English, not because I can't sing in Japanese, but because I wanted our Gems to be able to relate to the song and understand the meaning of it. By the way, your ability to SPEAK another language has no relationship to your ability to SING in another language. I also thought this would bring a unique spin to the song, while not changing the songs as a whole (because that's technically not a cover and is usually a big no-no). We're all such big fans of ONE OK ROCK that we didn't want to do the song any disservice or disrespect the band's original work. I had to take some creative liberties with the lyrics, but overall I kept them as true to the original song as I could.
Original Lyrics:
Verse
What waits for you?
What's breaking through?
Nothing for good
You're sure it's true?
Eien nante naito iikitte shimattara
Amarinimo sabishikute setsunai deshou
Dare mo ga hontou wa shinjitai kedo
Uragirarere ba fukaku kizu tsuite shimau mono
Towa ga aru sekai ga risou dewa naku
Sore wo shinji tsuzuketeiru sugata
Sore koso bokura ga nozomu beki sekai
To kizuku koto ga dekita nara
What will we have?…
Chorus
Believe that time is always forever
And I'll always be here
Believe it till the end
I won't go away
And won't say never
It doesn't have to be friend
You can keep it till the end
Verse
Tameshini eien nante nai to ii kirou
Soshitara kibou ya yume wa ikutsu shinu darou?
Sorega sonzai shinai koto no zetsubou to
Sonzai suru koto no zankoku wo
Souzou shite mite boku wa sukoshi mata
Mekuru peji no te wo tomeru
How will we have?…
Chorus
Believe that time is always forever
And I'll always be here
Believe it till the end
I won't go away
And won't say never
It doesn't have to be friend
You can keep it till the end
Ending
Keep it till the end
You can keep it till the end
And time will stay
Time goes by
You can keep it till the end
My translated lyrics:
Verse
What waits for you
What's breaking through
Nothing for good
You sure it's true

And if you said that there will be no other day
Then we would be lonely and in pain, wouldn't we?
Everyone wants to believe that forevers real
But betrayal may leave a deep wound we cannot heal
If only we could come to realize now
We have to keep on believing but how
A world where forever is real not dream
That's the kind of world that we should all wish for…

What will we have?
Chorus
Believe that time is always forever
And I'll always be here
Believe it till the end
I won't go away
I won't say never
It doesn't have to be friend
You can keep it till the end
Verse
And if we thought that there will be no other day
Then how many hopes and dreams would die alone tonight?
Thinking about the pain that I would feel
If all of this was gone and wasn't real
Can't bare the thought of losing all that time
Makes me want to stop the turning of the page

How will we have?
Chorus
Believe that time is always forever
And I'll always be here
Believe it till the end
I won't go away
I won't say never
It doesn't have to be friend
You can keep it till the end
Ending
You can keep it till the end
x4
(And time will stay, Time goes by)